Visiting Chester
Chester's unique walled city centre is packed with history ranging from ancient Roman ruins and a 900 year old Cathedral, to 13th Century half timbered shops. In the mainly pedestrianised city centre you'll find stylish designer stores rubbing shoulders with familiar high street names and quirky gift shops.
When it comes to eating out you'll be spoilt for choice – almost every type of cuisine can be found here and at a range of prices to suit most budgets. You'll also find traditional English pubs brimming with character and contemporary wine bars making the most of the city's architectural heritage.
If you're curious about the city's rich history there are museums, open top buses and guided walking tours to answer all your questions. Or, take it easy, and relax in one of the city's parks or on the banks of the river Dee.
We thoroughly enjoyed walking around both levels of the shops in Chester
Zoe S from Willenhall
When you're visiting Chester don't miss:
The riverside Groves are a great place to relax and watch the world go by or set off on a boat trip along the Dee.
read more
What our guests want you to know about visiting Chester
Some of our guests tell you, in their own words, what they liked best about their holidays in the city:
"A very walkable city with lots to do within easy driving distance too." Marian & Mark F from London, March 2018.
"So pretty, very accessible, just a lovely place to visit." Helen O from York, February 2018.
Vanessa B liked Chester's "history, river, restaurants and pubs" October 2017.
"A charming yet vibrant town with everything a tourist requires for a relaxing holiday" Ruth C from Germany, August 2017.
"Good variety of restaurants and pubs" Alison S from Market Rasen, August 2017.
"It's wonderfully compact and a lovely place to wander through streets of history – full of modern shopping interiors. Beautiful cathedral." Peter T from Torquay, July 2017.
Mary Y from Glasgow wrote "We thoroughly enjoyed ourselves" and liked best "the shopping and the river cruise", July 2017.
"Have visited many times – a beautiful and atmospheric city with great culture and shopping" Susan R from Colchester, April 2017.
Margaret B from Lancaster liked best "the range of actvities, shopping, dining out, history and lots of places of interest in the surrounding area", April 2017.
After her stay in April 2017, Jan B from Ashby-de-la-Zouch liked best "city of heritage, architecture and the Rows and just walking down some of the smaller roads with interesting shops etc." and she recommends a walk around the walls.
Coral H from Australia liked "How well the city has been preserved and how clean and tidy the city is. Love all the history of the place" and wrote "The hop on hop off bus with cruise on the river was very good" April 2017.
Chris P from Wolverhampton liked best the "variety of non-chain shops, canal, walls, gardens, walks. Good base for visiting elsewhere" February 2017.
Lindsay B from Liverpool liked best "city walls, cathedral and range of shops" when they stayed in December 2016.
"Lovely historic centre, everything was within walking distance" Michael W from Whitley Bay, October 2016.
Michael and Gloria C from Brighton liked best the zoo and cathedral when they stayed in September 2016.
Gemma H from Bromley liked best "walking along the city walls and the river" and "really liked Grosvenor Park" August 2016.
Nicola B from Aberlour recommended "the Grosvenor Museum – cool 'Explorer' pack for young kids and free!" July 2016.
Rebecca L recommended Chester zoo, the walls and the ice-cream farm after her stay in February 2016.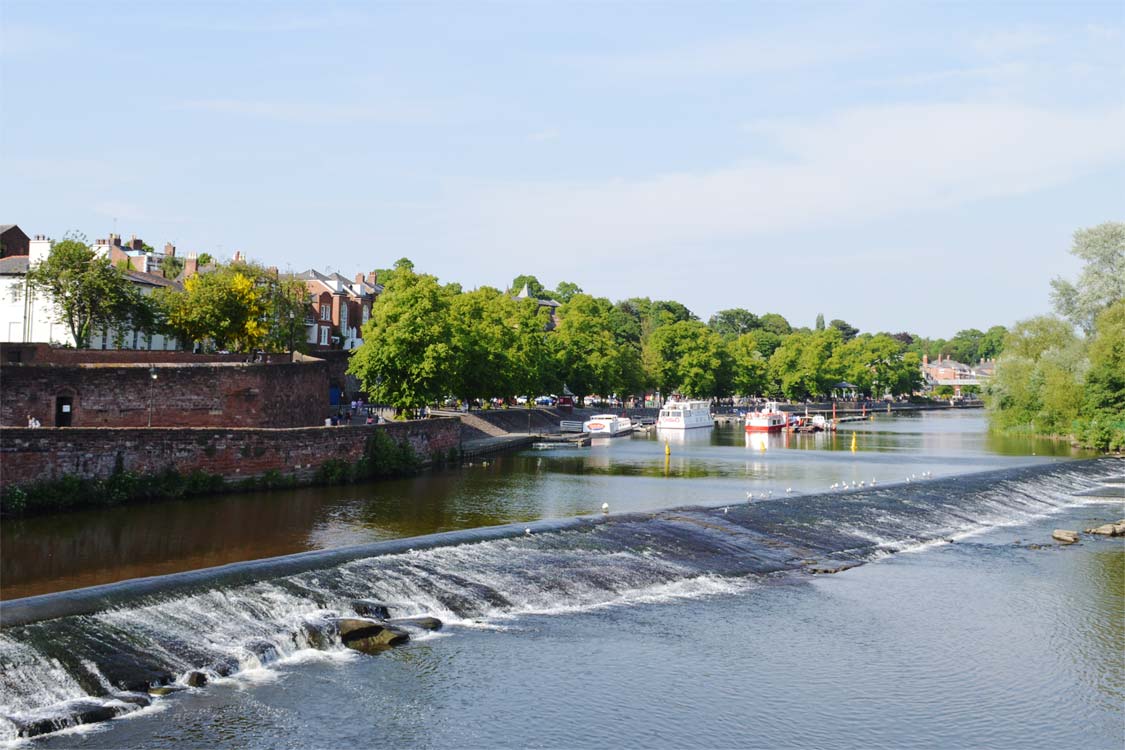 Where to find more information for your trip to Chester
Interested in visiting Chester?
We'll email you Chester travel tips and updates on Baker's Cottage special offers
Planning your Chester holiday?
Pay no booking fees and get the best price when you book direct with us, the cottage owners